Breast Center of Greater Waterbury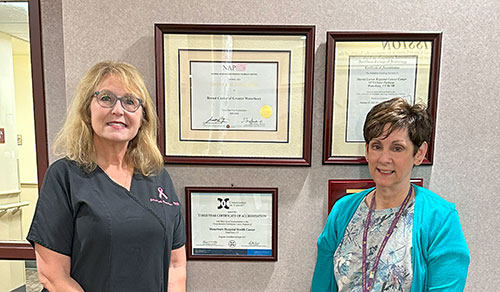 The Breast Center of Greater Waterbury at the Leever Cancer Center is a breast center "without walls." The mission of the Breast Center is to provide a structure that will facilitate the provision of state-of-the-art comprehensive care for patients with breast disorders both benign and malignant.
The Breast Center of Greater Waterbury has been granted a three-year full accreditation designation by the National Accreditation Program for Breast Centers (NAPBC). Accreditation by the NAPBC is granted only to those centers that are voluntarily committed to providing the best possible care to patients with diseases of the breast. Each breast center must undergo a rigorous evaluation and review of its performance and compliance with NAPBC standards. To maintain accreditation, centers must monitor compliance with NAPBC standards to assure quality care, and undergo an on-site review every three years.
NAPBC-accredited centers demonstrate the following services:
A multidisciplinary, team approach to coordinate the best care and treatment options available
Access to breast cancer-related information, education, and support
Breast cancer data collection on quality indicators for all subspecialties involved in breast cancer diagnosis and treatment
Ongoing monitoring and improvement of care
Information about clinical trials and new treatment options
Breast Center Physicians:
The Breast Center is intended to be open to all practitioners who are interested in participating. In addition, the Breast Center will enhance the educational opportunities available to its members. Membership criteria will reflect a commitment to providing evidence based care. The expectation is for participation in conferences and agreeing to use nationally recognized standards in patient care.
About NAPBC
The NAPBC is a consortium of national, professional organizations dedicated to the improvement of the quality of care and the monitoring of outcomes for patients with diseases of the breast. The NAPBC strategically built its leadership by inviting leaders from the major disciplines that routinely work together to diagnose and treat breast disease to become part of the consortium. Working toward one goal, this multidisciplinary group formed the NAPBC Board that mutually defined 27 program standards and 17 program components of care that collectively provide the most efficient and contemporary care available for patients diagnosed with diseases of the breast.
The NAPBC is a program administered by the American College of Surgeons. To learn more about the NAPBC, visit the NAPBC website.