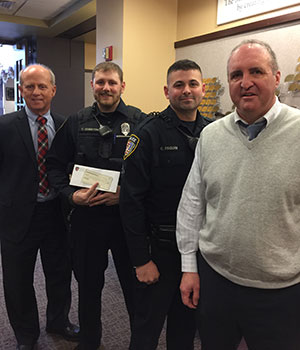 On October 6, 2017, the Watertown Police Department held its 3rd Annual Charity Golf Tournament, Teeing Off for the Leever Cancer Center, at the Crestbrook Park Golf Course. The golf tournament was followed by dinner at the Sunset Grille, a raffle, and live music featuring Guy Malone.
All proceeds from the event were donated to the Stepping Forward Survivorship Program at The Harold Leever Regional Cancer Center, which is designed to address the needs of cancer survivors and provide them with an effective post-treatment plan for care, disease prevention and support.
After the event, Watertown officers Christopher Donston and Christopher Paquin presented a donation check for $19,000 to HLRCC's Kevin Kniery (far left) and Tom Belzek (far right). The HLRCC is grateful to the Watertown police force, event sponsor MacDermid Performance Solutions, and all the sponsors, volunteers and participants for supporting Greater Waterbury cancer patients, survivors and their families!
---