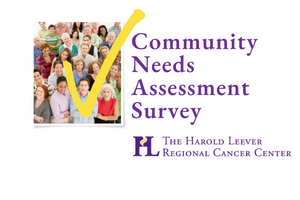 At The Harold Leever Regional Cancer Center, our goal is to serve the Greater Waterbury community, and we constantly strive to improve our level of care and commitment to that community.
Because community input is invaluable in enabling us to shape the care and services we provide to best meet the needs of the Greater Waterbury community, we are conducting a new Community Needs Assessment Survey, which will help us stay in touch with the needs of our patients, their families and caregivers, and the community in general as they relate to care and treatment of cancer, support services, and general treatment resources.
"At the Leever Cancer Center, we see ourselves as more than just caregivers. We're also partners with our patients, families, and the community," said Kevin Kniery, Executive Director of The Harold Leever Regional Cancer Center. "One of the most important ways to ensure the success of that partnership is to solicit input as a way of learning how we can improve the care, support, and resources we provide to the Greater Waterbury community we call home."
For example, based on the results of our last Community Needs Assessment Survey in 2018, we started offering free valet parking, which has proved invaluable for patients who have difficulty getting from their car to the building.
Everyone is welcome and encouraged to take the survey, even those who have never used the services of the Leever Cancer Center. While you may take the survey anonymously, those who provide their name, email, and phone number can receive a copy of our new cancer screening card delivered via mail or email.
Thank you for helping The Harold Leever Regional Cancer Center better serve you! The survey was available through the end of February and is now closed.
---