Yale Gynecologic Oncology Program physician Dr. Elena Ratner now brings her clinical expertise and deep commitment to highly personalized patient care to the Leever-based offices of the Smilow Cancer Hospital. Twice each month Dr. Ratner joins Drs. Chang, Katoch, and Sabbath in seeing patients on the second floor of the Leever Cancer Center.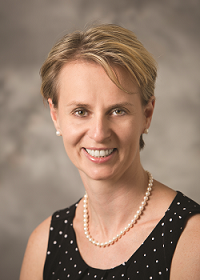 "Gynecologic oncology is a highly specialized field," said Kevin Kniery, executive director of the Leever Cancer Center. "Dr. Ratner is widely regarded as a leading innovator in both research and specialized patient care. To have her services available to patients at our facility is a testament to our commitment to making the highest level of cancer care accessible to patients throughout the region."
Dr. Ratner is a board-certified gynecologic oncologist specializing in ovarian malignancies. She is an associate professor in the Department of Obstetrics, Gynecology and Reproductive Sciences at the Yale University School of Medicine, co-director of Yale's Discovery to Cure program, and director of the Discovery to Cure Early Ovarian Cancer Detection program.
An advocate for cancer survivors, Dr. Ratner is also co-founder and director of the Yale Medicine Sexual Intimacy and Menopause Program (SIMS), one of the first programs in the country to focus on supporting cancer survivors coping with intimacy issues. Her professional interests include chemotherapy-targeted drug development, patient quality of life programs, and early cancer detection.
To schedule an appointment with Dr. Ratner in Waterbury, please call 203-755-6311.
---