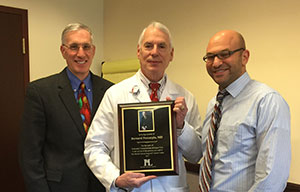 As we mark the one year anniversary of the passing of Dr. Bernie Percarpio, The Harold Leever Regional Cancer Center recently paid tribute to his memory with a plaque commemorating his great work while at Leever.
"Bernie, or Dr. P as he loved being called, was instrumental in the idea of a cancer center in Waterbury," said Dr. Ravalese when the memorial plaque was unveiled. "He was intimately involved in its design, and through his superb clinical skills, its success. He loved the Leever Cancer Center, and those of us privileged to work with him loved him as well. He will remain in our memory as a model physician, colleague, and friend."
The memorial plaque is on display in the radiation oncology department of The Harold Leever Regional Cancer Center.
---