The Harold Leever Regional Cancer Center has revised its COVID-19 guidelines for patients as follows:
All in-person support groups and community events have been canceled through Fall 2021.
As of March 19, 2021, Connecticut no longer has formal restrictions on travel, so screeners will no longer ask about travel outside of Connecticut, although they do still ask about international travel. Connecticut residents and travelers to Connecticut should follow travel-related guidance from the Centers for Disease Control and Prevention (CDC) and the Connecticut Department of Public Health (CT DPH).
Masks are still required, even for those who have been partially or fully vaccinated.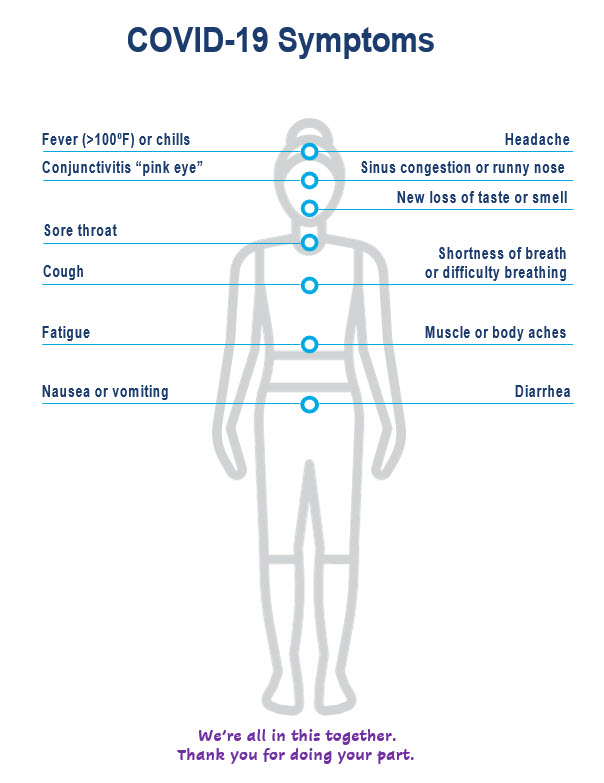 The Following Screening & Safety Guidelines Remain in Effect:
Visitors are not allowed to attend appointments with patients at this time. Exceptions may be made only at the discretion of provider(s).
All individuals will be screened for signs of COVID-19 at the front door. Until further notice, everyone who enters the building will be screened each time they do so, regardless of how long it has been since their last screening.
Anyone who has a fever or respiratory symptoms will not be allowed into the building.
When in the building, all staff and patients should follow social distancing guidelines by staying at least six feet away from other people.
All patients wear their own face mask to any appointment or visit to the Center.
Cleaning & Sanitizing:
We have removed items that might be handled by multiple people, including newspapers and magazines, and we have closed the library.
We conduct a thorough cleaning each evening and periodically throughout the day. Regular disinfectant fogging is completed on a weekly basis.
When entering the Leever Cancer Center, we ask that you wash your hands thoroughly after being screened at the front door, and utilize the hand sanitizer stations and bottles located throughout the building.
We continue to carefully monitor the ongoing situation regarding the coronavirus and will be updating the guidelines and information as needed.
If you have questions or concerns, please contact Radiation Therapy at (203) 575-5555, the Smilow office at (203) 755-6311, or the Saint Mary's Hospital Oncology Center office at (203) 709-6560.
---