There once was a man named Peter, who was a pro at this job, just like Derek Jeter! Treatment planning guru, so, so many years in the field, who knew?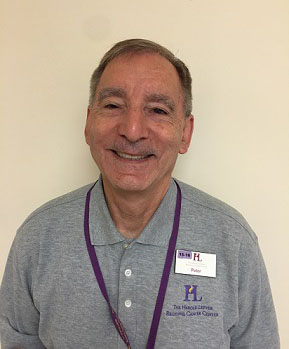 So begins Radiation Therapist Kerrie Huria's heartfelt and personal poem of tribute, written for Peter Sanchez on the occasion of his retirement from the Leever Cancer Center in June.
Peter was a part of the Saint Mary's Hospital family for more than 36 years; he spent the last 15 as a medical radiation dosimetrist at Leever.
"Peter was with the Leever Cancer Center from the day we opened our doors," says Executive Director Kevin Kniery. "He was an integral part of the day-to-day operation here — a familiar and friendly face — and will certainly be missed. We all wish him well in his retirement, and look forward to hearing about what will surely be his many adventures."
By day, Peter was a seasoned and passionate professional with a wealth of knowledge — keeping pace with advances in the field of medical dosimetry, sharing his experience and wisdom with his colleagues and students. Beyond Leever's doors, however, Peter's passions were varied, and the stuff of legend. Whether cutting a sharp figure in the ballroom as a competitive dancer, setting the pace in his age group at the annual New Haven Road Race, cheering his beloved Yankees, or traveling the world sampling diverse cultures and fine wines, Peter brings fun and energy to every day.
"Peter is a highly regarded professional, a sought-after mentor, and a friend to all," says Operations Manager Deborah Parkinson. "He made many friends during his long tenure here."
All of whom could have written the last line of Kerrie Huria's poem:
Now the time has come for you to retire. Peter, you're a great friend, whom I so admire.
---