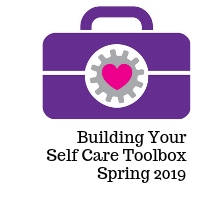 Cancer is a stressful experience, and it can be challenging to effectively deal with that stress while also undergoing cancer treatment or providing care and support to a loved one.
To help patients, their families and caregivers deal with that stress, The Harold Leever Regional Cancer Center offers the "Building Your Self Care Toolbox" program, a series of free workshops providing tools, techniques, and supportive therapies designed to help them improve their coping skills.
Leever has offered its Self Care Toolbox program since 2016, and the response has been overwhelming. "One of our most important goals at the Leever Cancer Center is to provide comprehensive cancer support services to our patients and their families," said Deborah Parkinson, Operations Director at the Leever Cancer Center. "That goes beyond treatment, to giving cancer patients and their families much-needed tools to help them reduce stress and improve their quality of life."
The Build Your Self Care Toolbox series is run by Diane Lafferty, a Certified Oncology Social Worker and a 28-year cancer survivor. Programs are held on the first four Tuesdays in April from 3:30-4:30 p.m. in the conference room on the ground floor of The Leever Cancer Center. A healthy snack is provided.
---