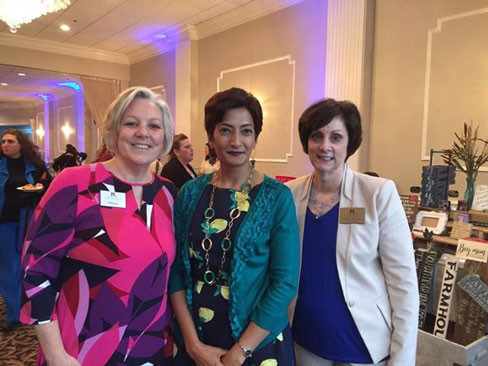 The Harold Leever Regional Cancer Center participated in the 26th Annual TGIF (Thank God I'm Female) Women's Wellness Forum on Friday, April 21st in Waterbury.
Hosted by the Waterbury Hospital Auxilary, the event featured a panel of female physicians, including Leever's own Dr. Anamika Katoch. Local TV personality Teresa Dufour of WTNH News 8 hosted the panel along with comedienne Michelle Gotay in a panel themed Friday Night Live ... Live from Waterbury, It's Women in Medicine.
Attendees had the opportunity to shop with vendors and visit exhibitors throughout the evening with proceeds from the event benefiting Girls Inc. and Pink 4 All, Inc. Deborah Parkinson, Operations Manager, and Melissa Seres, Social Worker for HLRCC provided attendees with information and giveaways as well.
---