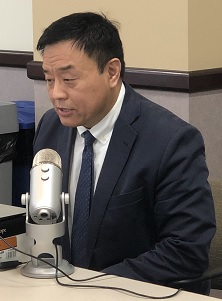 On March 29, Dr. John Zhang of Waterbury Hospital hosted an educational presentation to the community about colorectal cancer. He presented the basic facts, including types of colorectal cancer, underlying causes, factors affecting colon cancer risk, and screening recommendations. (The gold standard is a screening colonoscopy!) He explained that most colon cancers take five to 10 years to develop, and they are almost always curable when detected early.
Dr. Zhang also outlined treatment options for colorectal cancer including surveillance, surgery, and, in some cases, chemotherapy. He reviewed multiple types of surgeries and the latest technology – robotic surgery. Using this state-of-the-art surgery, tiny incisions are made in the body resulting in less pain, less discomfort, and faster recovery time than open surgery.
The gold standard: If you are 45 years or older, schedule your screening colonoscopy NOW.
Dr. John Zhang records Leever's first ever virtual community event presentation. To see Dr. Zhang's full presentation, visit leevercancercenter.org/video-library/.
---