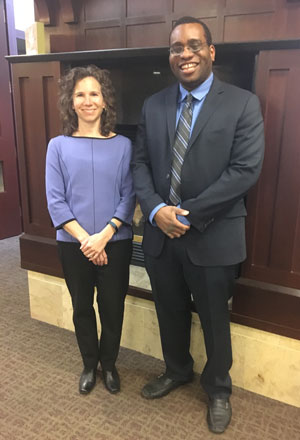 March is Colorectal Cancer Awareness Month, and the Leever Cancer Center did its part to raise awareness in the community by hosting two no-cost educational programs.
On March 15, Dr. Iyare Esemuede of The Stanley J. Dudrick Department of Surgery at Saint Mary's Hospital presented information about the diagnosis and management of colorectal cancer. When found early, colorectal cancer is highly treatable. A healthy diet and regular exercise may also help prevent colorectal cancer, but so does knowing your risk. Colorectal cancer is one form of cancer that may have a genetic link.
Dr. Esemuede shared the platform with Yvonne Ruddy-Stein, an APRN with Polokoff Breast Care, LLC, who talked about the increased use and availability of genetic testing and helped participants understand the genetic factors that may influence a person's risk of developing colorectal cancer.
The series concluded on March 22 when Dr. John Zhang of Alliance Medical Group and Waterbury Hospital shared information with the community about new and innovative colorectal cancer treatments.
"The American Cancer Society tells us that colorectal cancer survival rates have been increasing for both men and women for the past few decades," explains Leever Cancer Center Operations Director Deborah Parkinson. "They also tell us that one of the reasons for that trend is increased awareness about the importance of screening and early detection. I believe that free programs like those we offered in March have played an important role in educating the community in ways that have the potential to save lives."
---