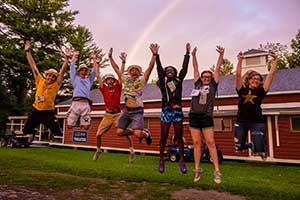 Camp Kesem at Yale University offers year-round support and a free summer program for children of patients undergoing cancer treatment at The Harold Leever Regional Cancer Center. Children between the ages of 6 and 18 receive support from camp counselors and can connect with their peers in the greater Connecticut area.
Summer camp runs from August 21 to August 26, 2022, in Torrington, CT. Campers experience the joys of summer camp while having the opportunity to build lifelong bonds and receive guidance from the passionate student volunteers at Yale University.
"Our goal is to provide as much support as possible to the families of patients under our care," noted Deborah Parkinson, Operations Director, The Harold Leever Regional Cancer Center. "Our patients always worry about the impact that their treatment journey has on their loved ones. It feels great to know that Leever can extend this wonderful resource to the families in our care this summer."
Visit kesem.force.com for additional information and to register for summer camp.
---