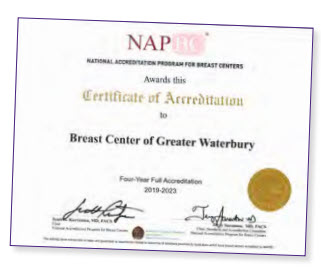 The National Accreditation Program for Breast Centers (NAPBC), a program administered by the American College of Surgeons, has once again awarded their top honor to The Breast Center of Greater Waterbury at the Leever Cancer Center.
NAPBC accreditation ensures that Leever patients have access to comprehensive care, including a full range of state-of-the-art services; multidisciplinary, expert teams working together to develop individualized treatment plans; information about ongoing clinical trials and new treatment options; and quality breast care close to home.
"NAPBC accreditation is a meaningful achievement that reflects not only our commitment to providing state-of-the-art, comprehensive care for patients with breast disorders, but also that we effectively deliver that care in accordance with the industry's highest quality standards," explained Kevin Kniery, Executive Director of the Leever Cancer Center.
For more information, visit the NAPBC site at accreditedbreastcenters.org.
---