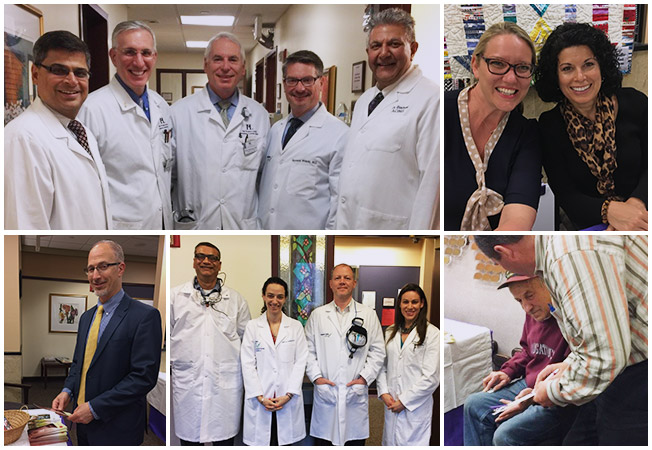 For the sixth consecutive year, The Harold Leever Regional Cancer Center offered the community no-cost oral, head and neck cancer screenings. The screenings were held on April 25th as part of Oral, Head and Neck Cancer Awareness Month. A Certificate of Participation was presented to Leever from the Head and Neck Cancer Alliance for successful completion of this screening event.
A special thank you to all those who volunteered their time for this important initiative: Mahesh Bhaya, MD; Elie Ferneini, MD, DMD; Neil Schiff, MD; Douglas Housman, MD; Joseph Ravalese, MD; Jeffery Bitterman, MD; Roger Badwal, MD; Raymond Winicki, MD; Jaclyn Sylvia, PA; Kim Casagni, FNP; James Williams, MD; Marissa Stankus, PA; Ratnakar Mandava, DDS; and Irene Clarke, Joanne Giedra, Melissa Seres, Cindy Pengelly, Jim Paccione, Amy Baldwin Stephens, Diana Spahiu and Sandra Micalizzi.
In 2015 individuals identified as being at high-risk of developing lung cancer using a formal set of criteria were also offered no-cost lung cancer screenings. The results were significant: the screenings led not only to cancer diagnoses in some patients, but also to the discovery of aneurysms, pulmonary embolisms, and other important findings. Our thanks to our area pulmonologists and radiologists who donated their time to benefit over 100 local patients who qualified for the screenings.

---