The Harold Leever Regional Cancer Center wishes to express its appreciation to our neighbors and friends...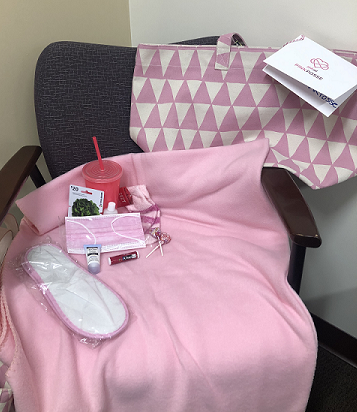 We are most grateful to Maryann Jackson for donations (chemo caps and blankets) and warm wishes for Leever patients: "My thoughts and prayers are with your patients. May they always be comforted by your care and compassion."
Our sincere gratitude to Bonnie Loiseau and the United Church of Christ Women's Fellowship, Southbury for providing comfort caps for patients.
Special thanks to Cathy Reed and Shaker Family Ford in Watertown for their participation in "Good Deeds Day" and for providing gift bags for patients at the Leever Center.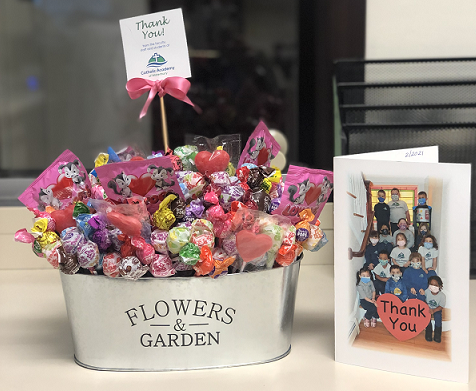 As always, we are very grateful for donations from Waterbury area schools including Driggs Elementary School, Enlightenment School, and Maloney Elementary School.
Many thanks to Pink Aid Pink Posse for the beautiful pink gift bags for patients.
Our staff was touched to receive this adorable (and delicious) lollipop bouquet from our friends at the Catholic Academy of Waterbury PreK Class.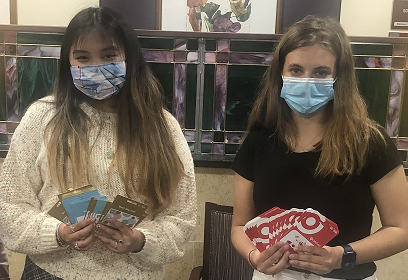 A huge thank you to Tiffany Zhang and Elise Moreira of The Taft School in Watertown for donating their time and effort to help Leever Cancer Center patients! Tiffany, the president of Taft School's Global Medical Service Association, and Elise, a member of the association, held several fundraisers to purchase gift cards for patients.
With sincere thanks to:
Grace Aquila for donating many beautiful crocheted/knit hats.
Jeana Wallace of Autumn Rae Salon for donating wigs for our patients.
Marilyn Dillon for her gift of handmade lap blankets and prayer shawls.
Jamie and Chris Boulanger for donating $500 in gift cards for patients.
Mary Parent of Watertown for the donation of handmade pillows.
Ed and Sue DiTota for their generous contribution in support of HLRCC staff.
Progressions Salon for the generous gift from the profits of their "Pampered in Pink" fundraiser.
Chris at CC's Chocolates in Wolcott for the basket of delicious chocolate treats for patients and a special note addressed "To all the brave fighters."
---