U.S. Death Rates From Cancer Show Steep Decline
Posted on
A cancer diagnosis is never good news, but for U.S. residents, a cancer diagnosis is more survivable than ever before.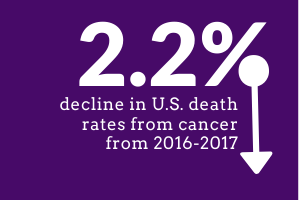 According to new data from the American Cancer Society, U.S. death rates from cancer dropped 29% from 1991 to 2017, including a 2.2% decline from 2016 to 2017, the largest single-year drop ever recorded.
Cancer death rates have been steadily declining since their peak in 1991, including drops in the most common types of cancer: lung, breast, prostate, colorectal, and melanoma.
Lung cancer: Death rates dropped 51% from 1990 to 2017 among men and 26% from 2002 to 2017 among women.
Breast cancer: Death rates declined 40% from 1989 to 2017 among women.
Prostate cancer: Death rates declined 52% from 1993 to 2017 among men.
Colorectal cancer: Death rates declined 53% from 1980 to 2017 among men and by 57% from 1969 to 2017 among women.
Melanoma: Death rates dropped 7% per year from 2013 through 2017 for men and women aged 20-64.
The report credits the decline in smoking and improved early detection methods of the drop in deaths from lung cancer. For other cancers, earlier detection, better screening practices (including colonoscopies and skin cancer screening) and more advanced treatment methods have contributed to the continuous decline in cancer deaths.
---