Maintaining Connections During COVID-19
Posted on
We all need human connections, but how do you make and maintain those connections when so many in-person events are on hold?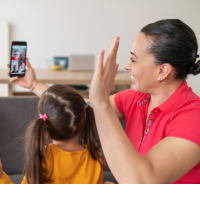 Human beings are social creatures, and we all need social connections to make us feel close to others and part of a community. People with strong social connections are happier, healthier, and live longer.
So now that COVID-19 has forced us to curtail or cancel so many social activities, it's more important than ever to find ways to keep social connections strong.
"As the pandemic continues, many people have told us they feel isolated and alone, especially because they cannot get together with friends and family," said Melissa Seres, MSW, LCSW, OSW-C, the Leever Cancer Center's social worker. "Fortunately, there are several easy ways you can make new connections and nurture your existing relationships, even when you can't do so in person."
Take Stock of Your Social Connections: Make a list of the people in your life and the activities you used to attend — everything from book clubs to dinners out to going to the gym. Next time you're feeling alone, your list will be a source of ideas for making or renewing connections.
Reach Out to Old Friends: Maybe you've fallen out of touch or simply haven't had time to get together, but now is a great time to contact friends or relatives you haven't seen in a while. A simple effort to make a connection might make someone else's day as well as your own.
Embrace Technology: When in-person interactions aren't possible, social media and other technology, like FaceTime, Google Hangouts, and even texting offer a great way to stay connected to your social circle, or to establish or join a new group. Join a Facebook group based on one of your interests or suggest a virtual get-together with a group of friends like a game night, happy hour, or book club.
Take an Online Class: Many fitness centers, community centers, and continuing education institutions are now offering a wide variety of online classes. Check resources in your area for class schedules, or go even further afield — since attending in-person isn't an issue, you're free to look into online classes in another city, state, even another country!
Find an Online Support Group: If you or a friend or family member needs help with depression, anxiety, addiction, or any other issue, you're not alone. There are hundreds of support groups offering online meetings, and many mental health professionals are still seeing patients via phone or videoconferencing.
The pandemic may have changed our lives, but it hasn't changed our need to connect with others. Use these tips to enrich your life and keep your sense of connection strong.
---