Look Good, Feel Better Program at HLRCC
Posted on
"Look Good, Feel Better offers women the opportunity to effectively mitigate some of the side effects — both physical and emotional — that can make cancer treatment especially difficult," says Leever Operations Director Deborah Parkinson. "We're proud to offer the program at no cost to our patients, who are always grateful for its profound impact on their lives."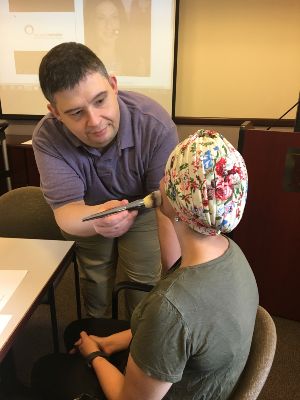 The Look Good, Feel Better Foundation and the Professional Beauty Association train and certify program volunteers at local, statewide, and national workshops. Those and other program volunteers offer women going through cancer treatment lessons on skin and nail care, cosmetics, wigs and turbans, accessories, and styling to help them manage the appearance-related side effects of cancer treatment, so that they can look and feel like themselves again. Each participant receives a complimentary collection of name brand makeup valued at $200. The Look Good, Feel Better Foundation also offers virtual, teen, and Spanish programs online.
The Look Good, Feel Better program is open to all women with cancer who are undergoing chemotherapy, radiation, or other forms of treatment. This free program is held at the Leever Cancer Center on the first Tuesday of every month from 1-3 pm.
Register at lookgoodfeelbetter.org.
From a K.S., a Look Good, Feel Better program participant: I just wanted to thank you for an awesome class on makeup. I will be going through a transplant (stem cell) and I needed a boost on feeling better. Your professional makeup artist was wonderful and I enjoyed it very much.
---