How to Wear A Mask
Posted on
As the Harold Leever Regional Cancer Center continues to follow Governor Lamont's executive order for wearing masks in public places in the state of Connecticut, we wanted to share some guidelines for wearing a mask that we have adapted from our caregiver protocols.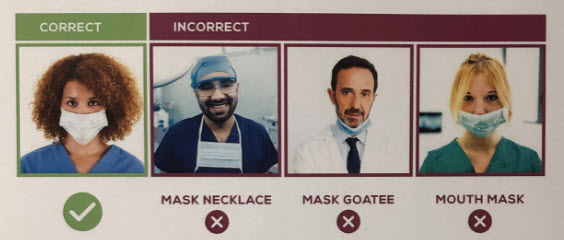 Every time you touch your mask, you risk touching your face and infecting yourself.
Leave your mask on unless you are eating, leaving the participant care area, or the mask becomes damaged or soiled.
When removing a mask for later use, remove it by the face straps and carefully fold it so that the outer surface is held inward and against itself to reduce contact with the outer surface during storage. Do not touch the outer surfaces of the mask.
Store the mask in a clean paper bag between uses. After removing and placing the mask in the bag, wash your hands before doing anything else.
When you put the mask back on, use the face straps and do not touch the outer surface of the mask. Wash your hands immediately after putting the face mask back on.
To dispose of a used mask, remove it by the face straps and avoid touching the outer surface of the mask. Dispose immediately. Wash your hands.
Additional information and guidelines are available on the CDC website.
---