Celebrating Twenty Years of Hope and Healing
Posted on
When The Harold Leever Regional Cancer Center opened in 2002, its mission was to create a healing environment for the care of people with cancer, keeping patients and families at the center of every interaction.
We are proud to say that for 20 years we have been fulfilling that goal, providing the most advanced therapies to our patients and continuously seeking out and offering innovations in cancer prevention, diagnosis, treatment, education, and support.
A Vision Becomes Reality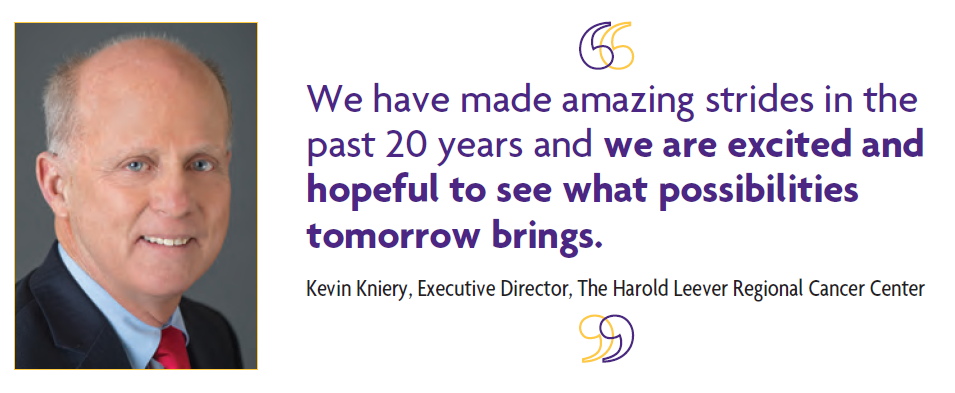 The Harold Leever Regional Cancer Center was the brainchild of Mr. Harold Leever, a local businessman and generous donor who started the Capital Campaign for the Leever Cancer Center. Mr. Leever's goal was to encourage the two local hospitals — Saint Mary's Hospital and Waterbury Hospital — to join forces to fight a common enemy: cancer.
Mr. Leever died in January 2001, but his legacy lives on. Thanks to his efforts, as well as a grant by the State of Connecticut, gifts from many area foundations, and the dedication and support of many forward-thinking community leaders, The Harold Leever Regional Cancer Center opened its doors on October 8, 2002. Since then, over 30,000 patients have been seen.
Cutting-Edge Technology and Treatment
For two decades, the Leever Cancer Center has maintained its commitment to making the latest cancer diagnosis and treatment technology available to our patients. Over the years, those efforts have included:
Becoming the first cancer center in the state to offer dynamic Intensity Modulated Radiation Therapy or dIMRT and one of the first facilities in New England to provide Acculoc IMRT.
The opening of our dedicated PET/CT Imaging Center, a 4,000-square- foot standalone facility that was the first of its kind in the state.
The addition of HDR brachytherapy, a highly precise form of radiation therapy that allows quicker, more effective treatments and can spare healthy tissue and reduce side effects.
A $1.5 million investment in state-of-the-art stereotactic body radiation therapy (SBRT) and stereotactic radiosurgery (SRS) technologies, including four-dimensional cone-beam computed tomography (CT) and an upgrade of both linear accelerators to include multi-leaf collimator (MLC) heads, which allows doctors to treat inoperable malignant tumors.
Multidisciplinary conferences, where doctors and other medical professionals meet to discuss the treatment plan and process for individual patients.
Volumetric Modulated Arc Therapy (VMAT), a highly advanced form of radiotherapy during which radiation beams make 360-degree rotations around the patient while delivering precise 3D radiation doses.
The installation of a state-of-the-art, premium PET/CT system: the GE Discovery MI DR. In addition to significantly improving diagnostic accuracy, it reduces patient exposure to radiation by more than 50 percent.
As we move forward into our third decade, we will continue to consistently invest in the most advanced technology and training available to ensure that our patients have access to the very best in cancer care.
Looking to the Future
With COVID seemingly on the wane, we are looking forward to reopening some of our communal spaces and restarting some in-person resources, including our popular support groups. We have missed seeing our patients and their families and caregivers in the library, waiting rooms, and around the coffee machine, and we will be excited to welcome you back. Watch the website for updated information.
While we are looking forward to changing our visitor and screening policies, one thing will remain the same: our commitment to our patients and our community.
As part of that effort, we periodically conduct a Community Needs Assessment Survey to better understand the needs of our patients and the community with regard to cancer treatment, caregiver support services, and general treatment resources. Through the survey and in every individual interaction, we want our patients and valued community members to know that we care about them, we are listening to their needs, and we will do everything we can to help.
"The past two years have certainly presented some challenges, but we are confident we will become stronger as a result," said Executive Director Kevin Kniery. Most of all, we want you to know that, though we have all faced hardships recently, we are filled with hope: for our patients, for the Leever Cancer Center, and for the future.
---